The post and grade on 'BOB' (That's what we called it.) was achieved with a team of around 10 people and a pool of talented colourists and assistants. This was using bleeding edge technology at the time and probably millions of U.S. and U.K. Dollars & Pounds. It set the template for how films and TV are done as standard now, but at the time it was very time consuming and very, very touch and go. From camera negative to final HD Delivery it took longer than the period from the Allied invasion of France to end of the Second World War in Europe.
Every colourist has their own approach and you are never too experienced to pick up tips. The day you stop learning is the day to give up

- Stuart Fyvien -
Work for the Spirit
So, best start at the beginning. My involvement began thus. It was 1999. I was employed at the BBC in Post Production. Back then it was an age where the BBC actually ran their own resources. It was a big department. It had grading, telecine, videotape, lots of offline- and online suites and lots of people running around and actually making television programmes. I was in the telecine department and was busy on various projects. The grading kit was 'Pandora Pogle' with a few antique 'Digigrade' systems amongst some of the telecine bays. We had just purchased a brand spanking new Spirit Telecine. This was after quite a heated debate whether to go with a Spirit or a Cintel C-Reality, (a conversation for the Pub if ever there was one.)
But the Spirit was chosen and the march was on to find some work to actually use it on. Our marketing department at the time thought it would be a great hook to send out an invite to a launch with the promise of bottle of Malt Whiskey. Glasses with 'BBC Resources - get some Spirit' engraved on the tumbler were duly posted out in jiffy bags to all the post supervisors in the film and TV community. We had the launch event, the booze was consumed and a post production producer, Bruce Everett, attended. At the time, Bruce was engaged in building a team for the oncoming 'BOB' project and by chance he came across the engraved invite. Never one to look a gift horse in the mouth, he turned up. He had some new ideas regarding dailies rushes and he obviously saw something he could exploit (As well as getting a free bottle of malt).
We were then chosen to provide dailies for the upcoming series 'Band of Brothers.' This has taught me two things: never underestimate the power of good marketing, no matter how bizarre, and never underestimate the power of free booze.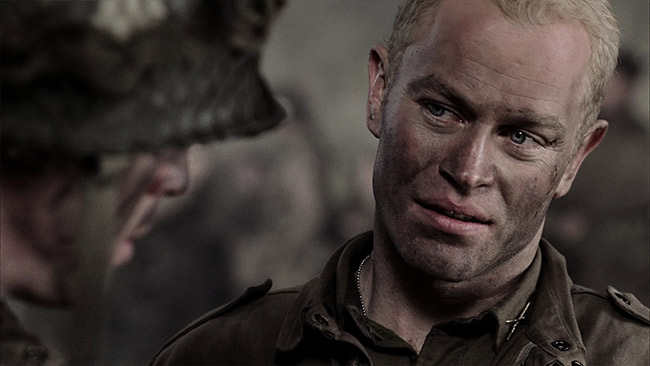 Test period
Contracts were signed and we then spent a few months testing. As HBO did not know exactly what their delivery requirements were, we had to build in as many options as possible. The series was shot on 35mm film for 1:78 Hi definition. Now, bear in mind that this was very early for Hi-def. Not many standards were established and the migration for analogue to digital was still not standardized by far. The 35mm negative was transferred on the Spirit to various formats simultaneously. The library master was a clean un-clipped feed out of the Spirit in full height anamorphic ratio. Each Lab roll (up to 2000 ft of film) had its own digi beta SD Tape at 25fps. At the same time, a feed out of the Spirit through to the Pandora Colour corrector via an Aspect ratio corrector and Aaton Keylink unit provided letterboxed graded images with the timecode/keycode burnt in for the editing room. This all had an offset of 2 frames. Luckily, the Pogle could handle different decks with different timecodes. This was ingested onto an Avid with a removable hard drive. A further digibeta copy was used in case the hard drive got screwed up and was also for the cutting room. Audio was synced by the edit dept.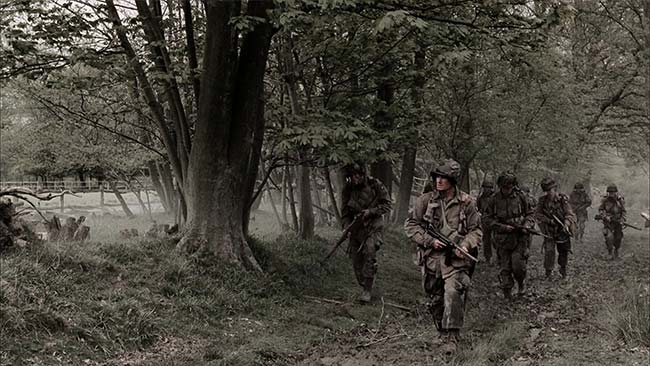 So, to recap, we had a set up that was like spinning 20 plates in the air at the same time and over a million feet to transfer. The 'clean' digi-beta was used as a fall back if the further finishing post went horribly wrong (I'll get to that in a minute.). The idea was that a clean technical grade frame-for-frame copy could be used for final grade and conforms. It could also be up-rezed to HD in a pinch. And to be fair, a lot of this material was used for promotional purposes like trailers.
Some of the best looking films ever made were graded in a lab with Red, Green and Blue contrast settings

- Stuart Fyvien -
What we did find was that, once the ducks were all in a row, the cookie cutter was set. We could realistically get through with our professional dignity still intact. It's one of those things where checking and re-checking could not be done enough. One miscoded preset frame meant the whole thing needed to be done again. The trickiest thing I remember was that the Avid drive would often fall over. Recording when it wasn't supposed to be etc. These were early MAC based systems and very flaky.
So, imagine we have 2000 feet of very precious expensive negative on the Spirit and we're ready to grade. The idea was to provide graded rushes that were in line with the Director of Photography's intent. Many night scenes required balancing, and multiple cameras required matching. The brief was to make them look as good as possible. We had direct contact with the DOP's. Any problems and we called them straight away. This could be anything from a camera scratch to lens problems. These guys wanted to know everything before the executives were watching the dailies back at base camp. This is where your relationship with the DOP begins as it is built on trust. They often don't get to view it until end of day so they really need to trust your word that it is all ok.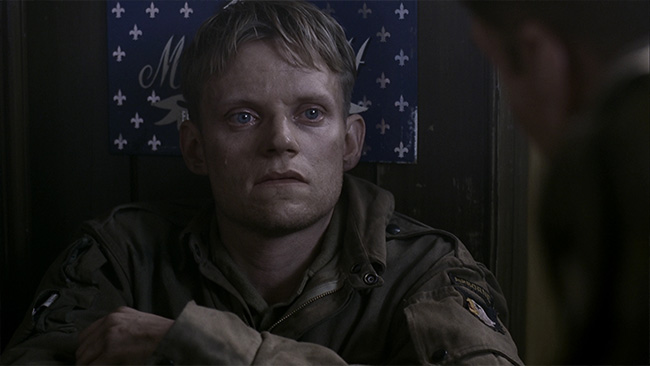 Our shift was from 4:30 to 9:30, six days a week. We had 2 teams of 2. A colourist and assistant. This gave us a shift pattern and also covered sick leave and emergencies.
The first dailies arrived
The first day of actual dailies arrived. It was 5 in the morning and we went to the film dispatch area to see how much had arrived. There were 12 cans of 2000ft of film. That's about 4 hrs worth. That was when I realized the scale of this thing. There had been an aerial shoot the previous day. Two camera units were filming actual WWII aircraft in the air. And this was the first day of dailies.
Up until that point, my experience of TV drama was cozy, intimate BBC stuff shot on super 16mm, often close up to hide the limitations of the sets. This was full on big budget Hollywood filmmaking. I certainly was not in Kansas anymore, and I better not fuck this up.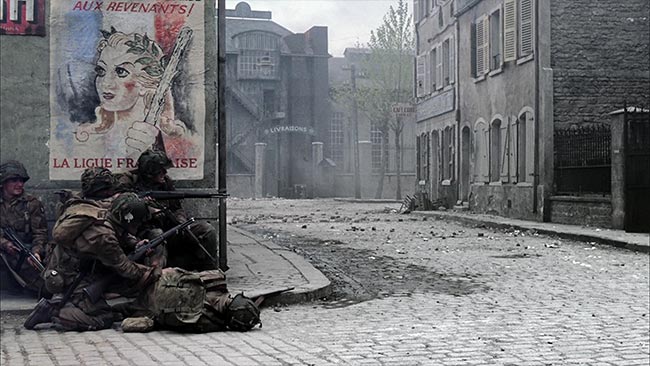 We did find though that as it settled down the amount of film reduced and would average 3-4 lab rolls. Only if there was a big battle scene did the footage get crazy. A,B,C,D cameras covering the same stunt for example. Another trick we learned was that the Telecine could be shuttled on fast forward. The image was consistent and we could add grading cues using this 'spin grade' technique. As much as they wanted it done right, they wanted it done 10 minutes ago. Once the grading cues were in, we would hit the go button and it played out in real time to the decks. A dispatch runner would then take it up to the studio in Hatfield. This was pretty much how it was for me for at least 5 months.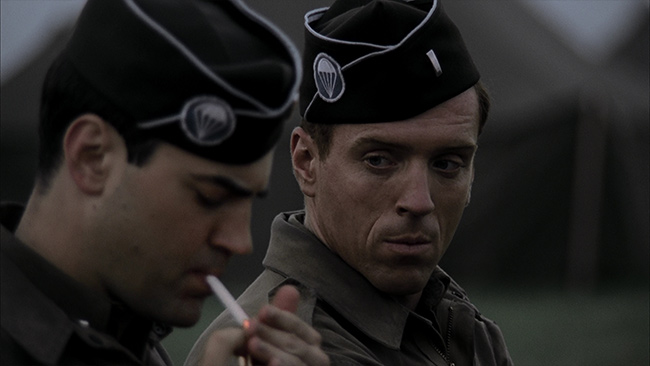 A new DI system was built
In parallel with this, the grading system that was going to do the final grade was being built. A full DI department was being constructed at Cinesite in London. This was to be one of the first DI systems outside Hollywood. It consisted of a Spirit telecine, just like the one at the BBC, and a new device called a Specter. (A Spirit with hard drives). These would run in 2K mode and grade through a POGLE Mega-def grading system also at 2K resolution. (Well, not quite 2K, it was actually 1920x1440 pixels.)
Cinesite in Hollywood had just completed the movie 'Oh, Brother Where Art Thou' as a full digital grade with a similar setup so they were keen to establish this further.
This is where, for me, opportunity met circumstance. Probably because I hadn't screwed up with the rushes, I was offered a role in this department. I grabbed the chance to see the project beyond the dailies stage. I had been at the BBC ten years and this was a perfect time to move on.
(If you ever get breaks like this yourselves, my advice would be to always go for it even if it's a bit of a gamble. You will always regret it if you don't. Asking yourself 'what if?' , that will drive you crazy.)
I then took up the post as Colourist at Cinesite, in the brand new shiny Soho based DI department.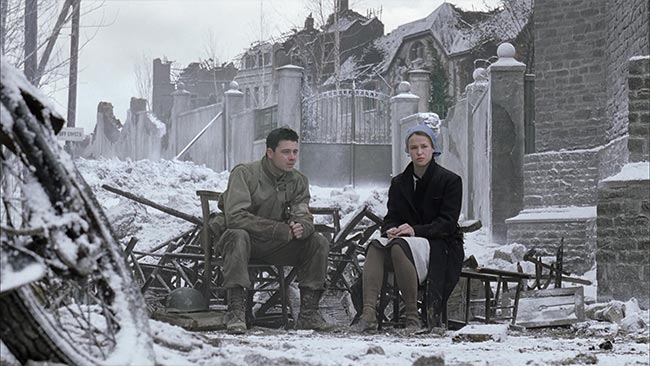 The pipeline was to grade the negative in linear video colour space, similar to the 'clean feed' used in the rushes. This would then transfer at 3 frames per second to hard drives. The Spirit was flexible enough to output data in this mode. (You can still come across these machines labeled as a 'Datacine'.) It was one of the first hybrid scanner devices out at the time. The colour corrector was a POGLE Mega def. Once the virtual neg rolls were on disk, they were copied onto the Specter. This was basically a Spirit without the moving parts. Again, a POGLE Megadef was at the end of it. It had an Edit timeline with multi-timeline functionality. Each grading room had a 32" Sony multi-format monitor. No projection was used.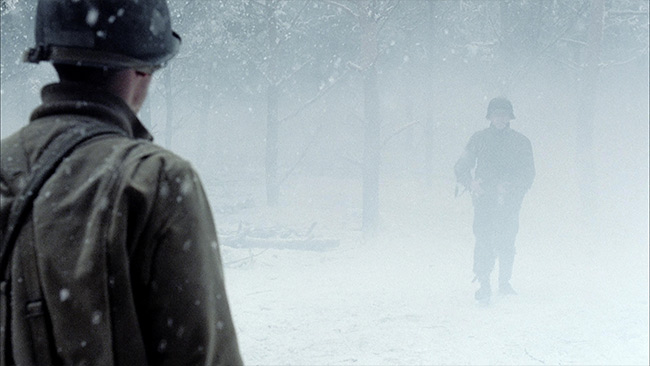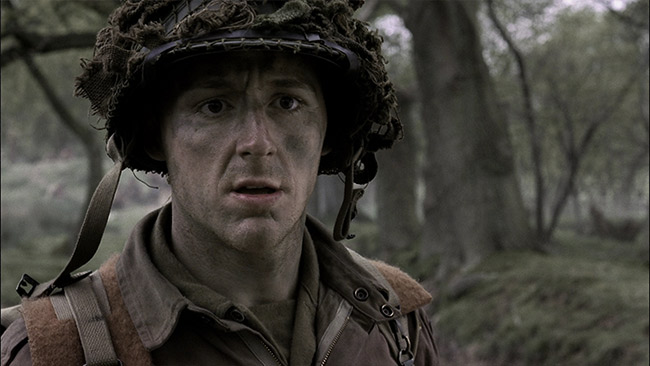 Now, bear in mind: this stuff was all hardware based. If you wanted to upgrade to six layers of colour correction, the cards were 6 grand a pop. The software amounted to a GUI that controlled the hardware. Want to soften the key channel? That will be an upgrade option. All this technology was expensive, required a lot of cooling, and was running at the limits of what was available at the time. Data transfers were often slow connections, often on parallel ports. It also required a lot of TLC by some top class engineers. As for storage, we had a whopping 3 TeraBytes, enough to hold an episode and a half. This was 15 years ago. I can now do all this on my laptop.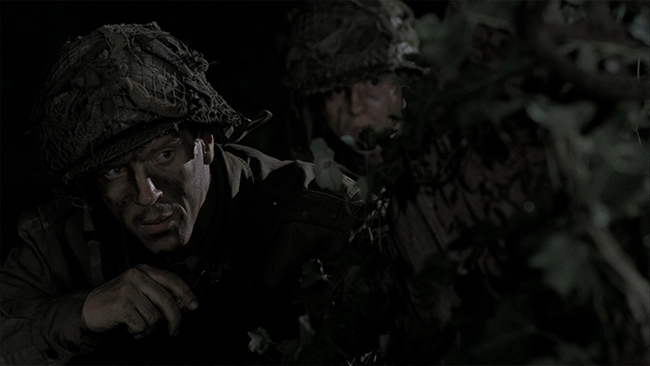 Luke Rainey
I was one of three colourists who graded Band of Brothers. My role in all of this was to handle the cut negative and grade it to match, then transfer it to the Specter where I would perform any other grading services. This is where Luke Rainey comes in. Luke was by far one of the best colourists in the country at the time. He was the guy who graded the show that gave each episode its look and feel. This was kind of a new departure for me as I was used to doing this myself, but the deal was that I was staff and he was under short-term contract from HBO. This set up of 'lead colourist' is kind of standard now, especially in big effects shows. These projects are often way too much for someone to do alone. It also gave me an opportunity to see how someone else worked. Every colourist has their own approach and you are never too experienced to pick up tips. The day you stop learning is the day to give up.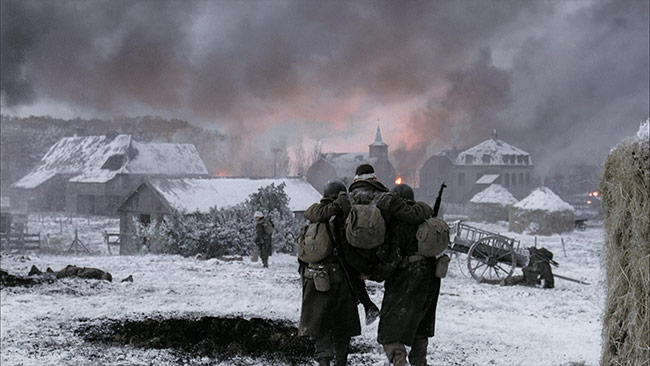 As I said, the system was hardware based. This gave us a primary correction layer, six layers of secondary grading including a basic shape layer, and a further layer of broad secondaries. This was way before a Baselight with its infinite stacks of colour keys.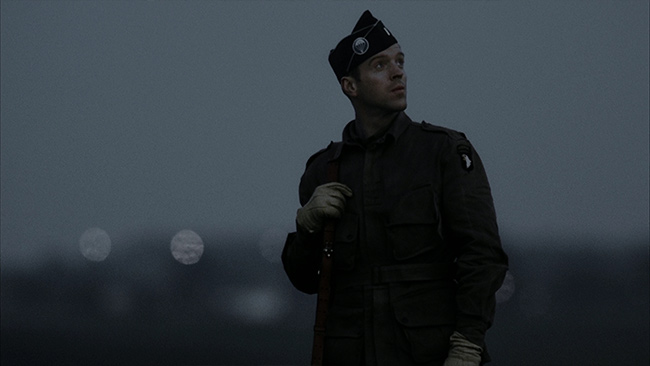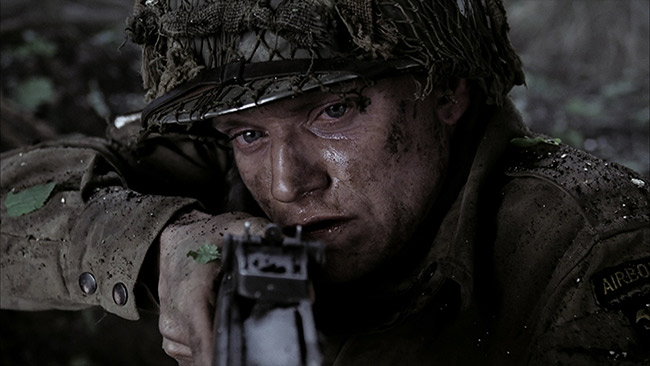 As I was involved from the beginning, I was around the various conversations regarding the look. 'Band of Brothers' is a 10-part one hour show about a group of soldiers as they advance over Germany in the Second World War. The series is broader in scope than 'Saving Private Ryan'. That film was shot a few years previously. It also had a very specific look. I won't go into it now but that was achieved photochemically and in-camera. The same technique was considered for 'BOB' but on reflection it was deemed too risky. (Other options were considered such as shooting on 16mm but the visual effects department insisted on 35mm for their VFX work.) There were multiple directors and two directors of photography so the style was tested and approved by the producers including Steven Spielberg.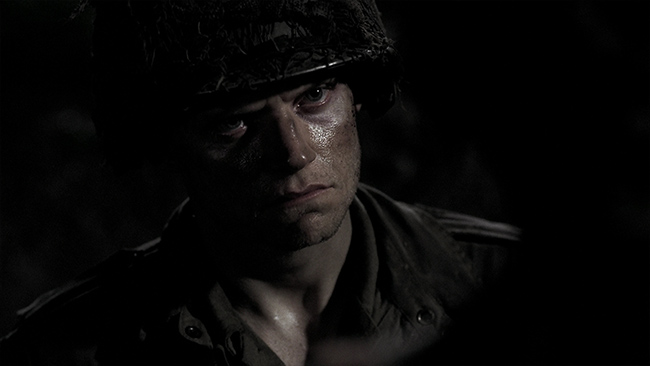 For 'BOB,' it was decided to achieve a look digitally. This preserved all the options for change, especially if they wanted to rethink the direction. This was a TV series that had a lot of big producers like Spielberg involved. So Luke came up with a 'recipe' for the show. One influence was early colour reproduction in print. We had an early WWII colour picture book from the 50's as a reference. Also the arc of the story meant the colour could become more drained as we followed the soldiers on their journey as they were getting more and more exhausted. For me this was an insight to grading as an integral part of the storytelling. It's not just about 'colour correction,' which assumes that the images are somehow 'incorrect' to start with, but also a new tool in telling the story. The job is not about rocking up at the chair on day one and making it up. You need a conversation beforehand as to how to approach it.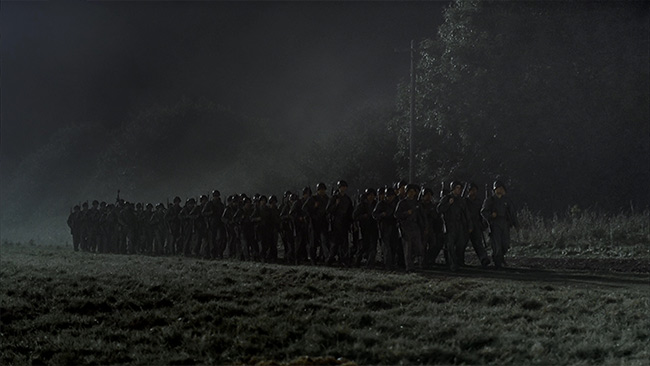 So on the Pandora it was broken down into channels. The channels work like a stack or layer in other systems. They are really just numbers of priority, and can be reordered. The channels are always active. On the panel there were 6 buttons: R G B Y C M. These could be assigned any colour but the starting point was the home colour. In our template, the first channel adjusted a luminance key in the black parts (a gamma curve was added to bend the dark parts into the black with de-saturation.) The next channel was the same but in the highlights. This left the middle range, which was adjusted as a primary. Another channel was assigned to specific objects such as gun flashes, skylines, etc. One was used to target specific tones like uniforms so they matched shot to shot. A final channel at the end was used as a global tweak. All of this was the base setting. The key mask of each channel showed up in each respective colour. So the green button had a green 'show mask' on the screen, red showed up in red, etc.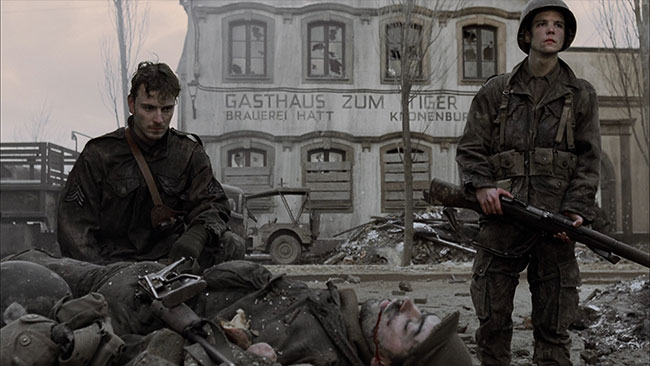 A combination of the above achieved something that hadn't been seen before. Again, this was hardware based so there was no tracking, no drawing shapes around things, none of that. I always thought that the success of this approach was pretty much copied on every World War film and commercial afterwards. Imitation is the most sincere form of flattery after all. (Saying that, I used it myself on a WWI series last year. The director wanted that 'Band of Brothers feeling'….)
In the background of all of this the DI team was running ragged getting the episodes ready. Many were recut. Team members were dust busting and fixing in a FIRE edit-suite. (I seem to remember a lot of the team doing shifts manually dust-busting.)
It was not all done in episode order. The data workflow creaked under the strain. We could only keep one and a half episodes online so there was a lot of backing up to DTF2 data tapes. There were lots of late shifts churning data around and a lot of visual effects delivery. We used a giant white board to track visual effects for each episode. It was insane.
Final delivery
Luckily the show had momentum and at least we all knew that it was something special. I remember a visit from Tom Hanks. We got to shake his hand but were told specifically by management - 'No small talk!'. He loved what he was seeing as he was also a producer on the show. A visiting employee from the States butted in as he entered the elevator and asked for his autograph. Tom obliged. The senior post producer had a fit afterwards and I suspect his fate was probably similar to that reserved for one of Kim Jong-Un's generals…..
When Luke finished, I was busy match grading VFX, grading and regrading shots fixing the QC. We were delivering on the Panasonic D-5 format for HD 1920/1080 at 24 psf. The play-outs were done in real time and would often fall over and require pickups. You couldn't take your eyes off the screen as the grading would glitch and sparkle. There was no rendering as such, just the hardware working in real time.
Another colourist was working on the 4x3 'pan and scan' in the evening, as one of the delivery requirements was for 4x3 standard def television. I still see that happening on shows now. The sooner that format dies, the better for all humanity.
The final show was delivered in Sept. 2001. I went to Jamaica on holiday when Episode One went on the air. The world was still in shock from the 9/11 attacks. I watched some of it on a 4x3 NTSC TV in my hotel room. Weird…
Sadly, Luke Rainey passed away a few years ago. Some of the old team were at his service. It was good to catch up and we discussed how crazy it all was. The sheer scale of the thing. I remember being on set a few times and just being blown away by the size of it all. Luke went on to grade a lot of wildlife programmes from his home in Bristol. As ever, they looked stunning.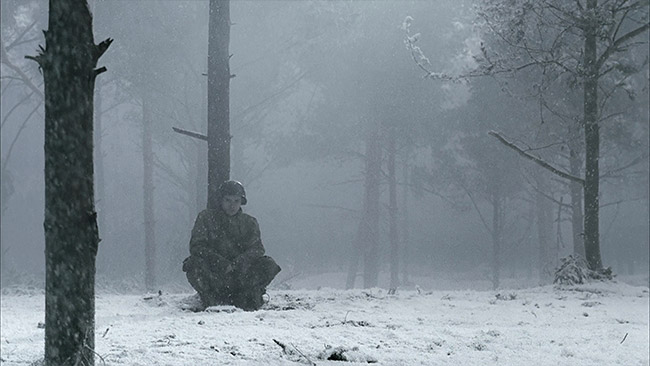 Have things moved on? Sure they have. The grading platforms are way more powerful, with storage we could only dream about, with multiple grading layers, keys, etc. But saying that, some of the best looking films ever made were graded in a lab with Red, Green and Blue contrast settings.
Non-linear grading is now the standard. If film is used, it is scanned in LOG space using the Lab rolls pulling the shots directly from an EDL. Film dust-busting is much more automated. The kit is now a fraction of the price. I reckon the build cost alone for the Cinesite Department came to 5 million dollars. The Budget for 'Band of Brothers' was 130 million dollars.
I've been lucky that I have worked with some of the crew behind and in front of the camera since. They all have similar impressions of the experience.
I still have a little memento:
Stuart Fyvie
All images and clips copyright © 2003 HBO
Read about how to achieve the bleach bypass look in our Creative Looks in DaVinci Resolve course. 
7

5